When you're trying your best to feed your kids right, you might find yourself falling into a pattern where without realizing it, you find yourself putting foods into categories, like this:
Broccoli: great. Candy: very bad. Carrots: good. Cupcakes: bad.
It's natural to look for ways that can help us make quick decisions about what to eat. But when we think about food in a more nuanced way, we end up being able to enjoy a lot more foods without feeling bad about our choices.
Healthy food can taste delicious and tasty… just like something we might think of as "off limits."

This Chocolate Banana Smoothie is the perfect example. It's super sweet, creamy, and full-to-the-brim with kid appeal. AND it's made from whole fruit, milk, and other nourishing ingredients.
Buzz up this smoothie today and share it with your kiddos. Embrace the delicious complexity of healthy food!
Is This Chocolate Banana Smoothie Really Healthy?
This smoothie might look and taste like a decadent dessert, but it's actually full of nourishing, whole food ingredients that you can feel confident serving your kids (even for breakfast! )
The ingredients list is short and simple:
Bananas
Whole milk
Unsweetened cocoa powder
Honey (optional)
One serving of this smoothie provides six grams of protein, four grams of fiber, plus the goodness of whole fruit and antioxidant-rich cocoa.
Here's How to Make a Chocolate Banana Smoothie
Whipping up this chocolatey treat is quick and easy, and you'll be a big hit with your kids when you make it. Here is how to make it just right:
Freeze your bananas ahead of time. The next time there's a bunch of brown bananas staring you down on your counter, go ahead and peel a few, break them in half, seal them in a zip-top bag, and freeze.
Choose a natural, unsweetened cocoa powder.
Adjust your sweetener. If you want to go totally free of added sugars in this smoothie, you can leave the honey out entirely. Really. It's still way sweet!
Blend it well. Frozen bananas have a tendency to escape the blades in even high-powered blenders. Let yours run for an extra 20 seconds or so, so the smoothie is ultra smooth.
Serve it right away. This smoothie shines when it's frosty cold and well-blended. Enjoy it straight away after making it for the best taste and texture. If you do have leftover smoothie, it'll keep in the fridge, but may separate after a few hours. A quick stir with a straw will restore a more even consistency.
Top it with whipped cream. This is totally optional, but oh so fun.
More Chocolate Goodness
Try a couple riffs on this chocolate drink with these recipes:
Chocolate Peanut Butter Protein Shake for Kids
Homemade Chocolate Milk
And learn about how chocolate fits into the health equation for kids here.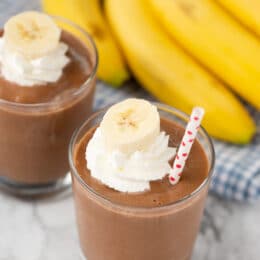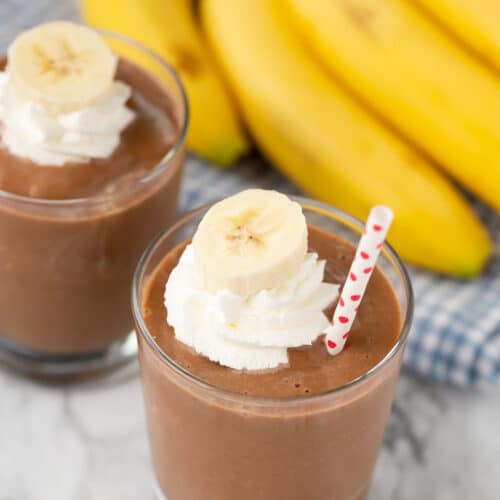 1

cup

milk

dairy or non dairy

2

bananas

frozen

1

tablespoon

honey

1

tablespoon

cocoa powder

unsweetened
Originally From: Source link