This Homemade Creamy Vegan Ranch Dressing only takes minutes to make and tastes so crazy good, it will forever change the way you think of salads… In fact, you'll probably want to have salad every day, from now on!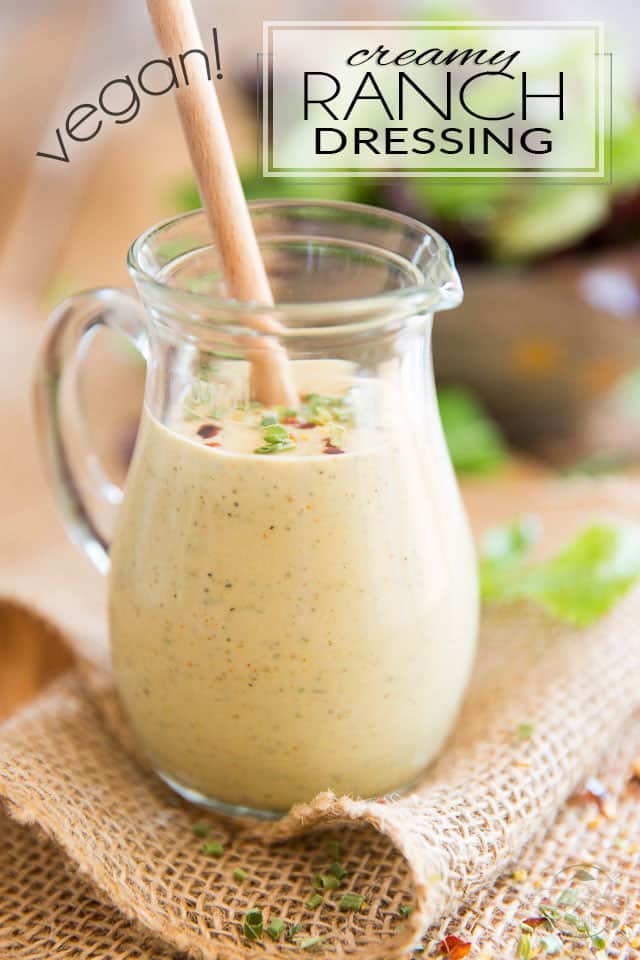 I've been eating lots and lots and lots of salads this summer… As such, I've also been making lots and lots and lots of different salad dressings. So much so, I could easily be sharing a new salad dressing recipe every week with you. But then you'd probably be like "Hey! Enough with the salad dressings already! Where's da real food at?" at some point…
But seriously, can you imagine a life without salad dressing? Me, all I can say is thank goodness for them! They have the incredible ability to turn any ordinary — and often rather boring — salad into an extraordinary explosion of flavors.

And I'm telling you this vegan ranch dressing right here is a illustrious superhero at doing just that! You will not believe the amount of flavor that this thing hides under its cape. KLUNG! KAPOW! BOOM! It's simply astounding!
In fact, of all the different dressings that I've created so far, this one is my absolute favorite — I could almost drink it with a straw — which is why I decided that I had to share it with you.
I hope that you like it just as much as I do and that it gets to liven and brighten many of your future salad fares…
The post Creamy Vegan Ranch Dressing appeared first on The Healthy Foodie.
Originally From: Source link